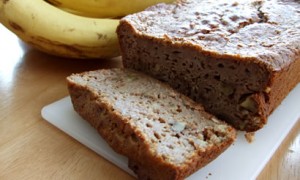 This banana bread is made with whole grain spelt flour, and lightly sweetened with honey and stevia. So it is much better for you than traditional banana bread. Soaking the flour overnight (12 hours) in a yogurt/milk mixture breaks down the anti-nutrients found in grains, makes them easier to digest, and more nutritious. Read more about soaking grains here.
4 cups whole spelt flour
1 1/3 cup whole plain yogurt
1 1/3 cup raw whole milk
4 extra-ripe bananas, mashed (about 2 cups)
4 eggs
2 teaspoons vanilla extract
2 teaspoons lemon zest, optional
1 teaspoon ground cinnamon
1/2 teaspoon ground nutmeg
2 teaspoons salt
1/3 cup butter or coconut oil, melted
1/2 cup honey
1/4 teaspoon SweetLeaf® Stevia Extract Powder
1 cup walnuts, chopped
2 teaspoons baking powder
3/4 teaspoons baking soda
12 hours before you want to bake the bread: Mix the flour, yogurt, and milk together in a large bowl until thoroughly combined. Cover with a towel, and/or plate. Set aside for 12 hours.
The next day, when you are ready to bake the bread: Preheat the oven to 350F. Grease 2 loaf pans, 9×5-inch, with butter or coconut oil.
In a medium mixing bowl mash the bananas, whisk in the eggs and the rest of the ingredients until well combined. Immediately add the banana mixture to the flour mixture, folding in until completely mixed.
Divide the batter between the two prepared loaf pans. Bake for 60 to 70 minutes (toothpick inserted in the center will come out mostly clean). About 15 to 20 minutes before the loaves are done baking, you may want to cover with aluminum foil to prevent them from getting too brown.
Cool the baked loaves on a wire cooling rack for 10 minutes. Run a knife around the edges of loaves, and gently remove from pans onto the cooling rack. Let cool completely.
Makes 2 loaves.