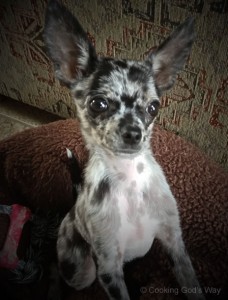 "What! Did he mention two of my favorite topics?! Money and bones!" Well my friend Petey here does like bones, I think he said money to get your attention. lol Enough with the fun lets talk about bones. Doctors are telling us that it is very common for people to have mineral deficiencies.
Our bodies use minerals for a variety of functions, such as building strong bones and teeth, blood, skin, hair, and nerve function. Did you know that minerals are also very necessary for metabolic processes such as digesting food, proper sugar balance, loosing weight and building muscle. I think with all the areas that minerals are needed in the body you can find one that is of importance to you.
Eat Your Soup
Bone Broth is one of the most mineral rich foods on the planet. An old South American proverb says, "good broth will resurrect the dead." It was very common for our ancestors to save bones from their meats and make nutritious broths. Bone broth is great for helping to speed healing and aid in recuperation from illness.
Studies have been done that show chicken soup can help the body heal faster from a cold. Chicken contains a natural amino acid, cysteine. Cysteine can help thin the mucus in your lungs when fighting a cold so you can expel it faster. Keep in mind homemade soups made from homemade bone broth are much better than canned processed soups. It is looking like Grandma knew what she was talking about when she gave out chicken soup for colds.
Experts Stand With Bone Broth
There are many experts in the field of medicine and health that are recommending the consumption of bone broth. Dr. Natasha Campbell McBride, author of the GAPS diet used bone broth as one of the key foods that helped her child overcome autism. Dr. McBride now has a clinic in Cambridge, England where she treats children and adults with autism, learning disabilities, neurological disorders, psychiatric disorders, immune disorders, and digestive problems.
Load Up On Minerals & Save Money
Bone broth is so wonderful because it contains minerals in a liquid form that is easily assimilated by the body. Some of these great minerals are calcium, magnesium, phosphorus, silicon, sulfur and trace minerals. What makes it so useable by the body, is that the chondroitin sulphates and glucosamine from  cartilage and tendons are broken down in to a basic form the body can adsorb. You maybe familiar with chondroitin and glucosamine since they are common supplements, but getting quality versions will cost dearly.
Benefits of Bone Broth
Putting homemade bone broth into your diet may sound old fashioned, but it is a great way to get a boost. Lets look at some of the reported benefits. It can help to heal and seal your gut, while promoting healthy digestion. Bone broth has hydrophilic properties in that it attracts and holds liquids, like digestive juices, helping to improve digestion. Side note: this same property is displayed by lacto-fermented foods. Remember the chicken soup, studies have shown that it can help lower infection caused by cold and flu viruses, etc.
Bone broth helps to fight inflammation since it contains important amino acids such as glycine, proline and arginine which have anti-inflammatory effects. Don't forget chondroitin and glucosamine that we mentioned earlier. These help to act to diminish inflammation in joints, helping to reduce joint pain.
Hair, nails, and bones see great improvements from the minerals we mentioned, such as calcium, magnesium, and sulfur. Gelatin in the bone broth helps to feed hair and nails especially.
Bone Broth Is Easy To Make
Lets face some facts!  We are going to have to make our own bone broth. It is really not hard at all. Most of the bone broth sold in stores is not going to be the quality that you need, not to mention what the source of the bones is? The best bone broth is from pastured animals, that have been fed a clean diet, free of growth hormones and anti-biotics.
One suggestion is not to wait till you are fighting something to start the bone broth. Make it a part of your weekly meals in soups, stews, gravies, sauces, and just a plain cup of broth makes a super snack. Here is another suggestion to help get this into your menu. Make a lot of broth, and freeze it. To get you started on your way we have a time tested beef broth recipe for you. Chicken can make a great broth, and chicken soup wouldn't be right without it. Here is the chicken broth link.
If you were to start with one homemade food this would be it. 🙂