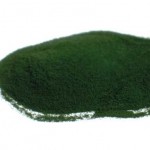 Spirulina is a type of fresh water blue-green algae that has been around for more than 3 billion years. It was used in ancient times as a food source for the Aztecs and then other Meso-Americans.
This "super" green food is a powerhouse of nutrients. Spirulina is made up of 60% protein (an all vegetable source), even higher than soy, and more than double the protein of red meat.
It is a great whole food alternative to isolated vitamin and minerals.
Spirulina Contains – Vitamin A, B1 (thiamine), B2 (riboflavin), B3 (niacin), B6 (pyridoxine), B12 (cobalamin), Vitamin C, Vitamin D, Vitamin E, Folate, Vitamin K, Biotin, Pantothenic acid, Beta carotene (source of vitamin A), Inositol, Calcium, Manganese, Iron, Chromium, Phosphorus, Molybdenum, Iodine, Chloride, Magnesium, Sodium, Zinc, Potassium, Selenium, Germanium, Copper, Boron, Phycocyanin, Chlorophyll, Carotenoids, Myxoxanthophyll, Zeaxanthin, Cryptoxanthin, Echinenone and other Xanthophylls, Gamma linolenic acid, Glycolipids, Sulfolipids, Polysaccharides, Isoleucine, Phenylalanine, Leucine, Threonine, Lysine, Tryptophan, Methionine, Valine, Alanine, Glycine, Arginine, Histidine, Aspartic acid, Proline, Cystine, Serine, Glutamic acid, Tyrosine.
Health Benefits of Spirulina
Good for the Immune System – A number of animal studies have shown spirulina to be an effective immunomodulator (an agent that can effect the behavior of immune cells.) In rats spirulina inhibited allergic reactions by suppressing the release of histamine in a dose-dependent fashion. In cats, spirulina enhanced the ability of macrophages to engulf bacteria, and in chickens spirulina increased antibody responses and the activity of natural killer cells, which destroy infected and cancerous cells in the body. – UC Davis School of Medicine and Medical Center
Helps Fight Fatigue – Spirulina, with all its abundance in vitamins and minerals, can help give you an energy boost and keep you going throughout the day. Spirulina may also boost energy through the lactobacillus in the intestinal tract, which aid in the release of nutrients from food, and enable the production of energy promoting Vitamin B6.
Improves Digestive Tract Health – When spirulina is added to the diet, one can see an almost immediate improvement in elimination and regularity. This along with its ability to suppress bacteria like e-coli provides a tremendous boost to digestive functioning. Spirulina also helps to stimulate the beneficial flora, assuring protection against infection and allows for maximum nutrition from food that is eaten.
Promotes Lower Blood Pressure & LDL Cholesterol – In a 2007 study reported in Lipids Health Digest, 36 human subjects ingested 4.5 grams of spirulina daily for six weeks without making any other modifications in their diets or lifestyles during the course of the study. After the six week period, total cholesterol concentrations and levels of body fat were lowered. Systolic and diastolic blood pressure was reduced.
Helpful Body Detoxifier – With its powerful antioxidants like Vitamins C and E and many other antioxidant minerals, spirulina is helpful in reducing toxic effects of cadmium and mercuric chloride. Spirulina has been found to reduce kidney toxicity resulting from heavy metals including mercury, and from pharmaceutical drugs. It has also been shown to promote the elimination of dioxin.
Can Anyone Consume Spirulina?
YES! Spirulina is considered a whole food, not a drug or medicinal supplement. Pregnant women can use spirulina's vegetable protein and bioavailable iron. In India and Vietnam, doctors prescribe spirulina for pregnant and nursing mothers and their infants. Parents are often surprised how much their children enjoy this green food. Kids enjoy green spirulina fruit smoothies and munching on spirulina covered popcorn. Spirulina is fed to some zoo animals and is safe for your pets as well. If you feed it to your dog you may notice a healthier shinier coat among other benefits.
How Much Spirulina Should One Take?
Taking 2-5 grams a day has been shown to bring significant health benefits. This is 1 teaspoon of powder or 6 to 20 tablets. It is best to take some everyday to see the best results. Since it is considered a whole food, you can take it alone or with meals. Mixing spirulina powder in a fruit smoothie is a tasty beneficial way to start your day. [See this Odwalla-style Superfood Smoothie Recipe….so good even the kids like it.]
Where to Purchase Spirulina
Spirulina is available for purchase from many companies. Though not all spirulina is created equal, so do your research and make sure you buy from a reputable company to ensure you will receive the best high-quality product available.
Amazon is a great place to look for quality spirulina powder, such as this one.
Sources:
Natural News: Add Spirulina to Your Diet and Replace those Expensive Supplements
UC Davis Study Shows Spirulina Boosts Immune System
Benefits of Spirulina Powder