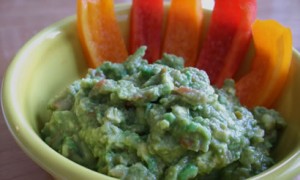 This is guacamole dip is quick and easy to make. It's perfect to make for a fast, yet satisfying snack. Forget the chips, and instead go for the healthier option…cut up veggies. Sweet bell peppers are great in this dip, and the avocado gives you a boost of healthy fat.
1 large, ripe avocado
3 to 4 Tablespoons prepared salsa (no sugar added)
pinch garlic powder OR 1/4 tsp. minced garlic
1 to 2 teaspoons lemon juice
sea salt, to taste
Peel, de-seed, and cut avocado into large chunks.
In a bowl, lightly mash the avocado chunks with a fork.
Mix in the salsa, lemon juice, and garlic; followed by the sea salt, to taste.
Serve with vegetables of choice (especially sweet bell pepper strips).
Makes 2 to 3 snack-sized servings.
*Sugar-Free / Grain-Free