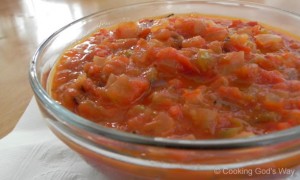 This salsa is another favorite around here. YES, I know, it has Habanero's in it (one of the hottest peppers out there)… but before you go running away screaming 😉 let me tell you that this salsa is NOT "Hot". In fact it's quite mild. The habanero peppers are roasted and simmered slightly in the sauce before being removed. So they just impart their delicious fruity flavor to the salsa without adding really any heat (or spice) at all. So go a head and give this a try!
2 pounds Roma (plum) tomatoes, cut in half lengthwise
1 green bell pepper, cored/seeded and cut in half lengthwise
2 habanero peppers, left whole
4 Tablespoons extra-virgin olive oil
1 medium white or yellow onion, chopped
2 teaspoons unrefined sea salt, or to taste
Place cut tomatoes and bell pepper on a baking sheet along with the habanero peppers. Roast under a preheated broiler until skins/edges are blackened. Remove peppers or tomatoes as needed.
Place bell pepper halves in a food processor, pulse to break up. Add in the tomatoes with any juice and process until a coarsely textured puree.
In a 2-quart saucepan, heat olive oil over medium heat. Add in the chopped onion and saute until golden and translucent, about 5 minutes. Stir in tomato puree and cook for a few minutes, until the sauce changes color, stirring frequently.
Cut a few slits, or "holes", in the sides of the habanero peppers (but leave them whole) and add them to the pan with the tomato sauce. Reduce heat to low and simmer for 15 minutes to let the flavors blend, stirring occasionally.
Remove chile's and season to taste with salt.
Best served warm. If not serving right away, store in the fridge for up to 4 days. Gently re-warm before serving.
Makes about 3-cups
*Sugar-Free / Grain-Free

Email To A Friend

Print This Page