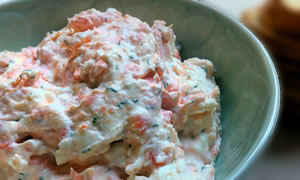 This salmon dip is easy to prepare, is good for you, and tastes great with an assortment of vegetables (especially sweet bell peppers). Serve this at a party, or just for an everyday snack.
1 can (6 ounces) Wild Alaskan Salmon, drained
1/4 cup homemade mayonnaise
OR Vegenaise® made with Grapeseed Oil
1/2 teaspoon dried dill
1 Tablespoon lemon juice
salt and pepper, to taste
assorted vegetables, for dipping
Drain salmon, place in a bowl and flake with a fork. Add the mayonnaise, dried dill, lemon juice, and salt and pepper to taste. Stir until thoroughly combined. Serve immediately with assorted vegetables for dipping (sweet bell peppers are especially good), or chill the dip first and then serve.
Makes 3/4-cup of dip (about 4 snack-sized servings).
*Sugar-Free / Grain-Free

Email To A Friend

Print This Page