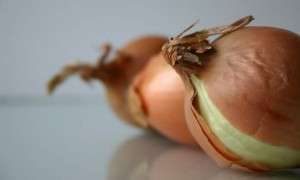 Who wants to eat the chemical-preservative laden store-bought dip, when you can make this homemade sour cream & onion dip at home…considering how easy it is. Every time I make this dip it gets eaten up the same day…within hours of making it actually. We eat it with anything from homemade potato chips to raw veggies, such as carrot or celery sticks.

Sour Cream & Onion Dip
A versatile, flavorful dip that is easy to make and delicious with chips or fresh vegetables.
Ingredients
1½ cups mild onion, finely minced
1 Tablespoon extra-virgin olive oil
1 teaspoon sea salt
1 clove garlic, minced
2 cups sour cream
pinch white pepper
¼ teaspoon onion powder
Instructions
Heat olive oil in a large skillet over medium heat. Add onions and cook for 5 to 7 minutes, until starting to caramelize; be sure to stir frequently to avoid burning.
Stir in salt and minced garlic and continue cooking another 5 to 7 minutes more, until completely golden, but not burnt. Remove from heat and let cool for 5 or more minutes, until no longer hot, but just a little warm.
Measure sour cream into a bowl large enough to stir together and hold the finished dip. Add in the, now slightly cooled, onion - along with the pepper and onion powder; stir to combine. Season to taste with a little more salt, if needed.
Store the dip in the fridge for at least an hour or two before serving to let the flavors meld.
Serve with good quality, or homemade, potato chips (not on a sugar-free diet), or with raw vegetables for dipping.
Notes
*Sugar-Free / Grain-Free