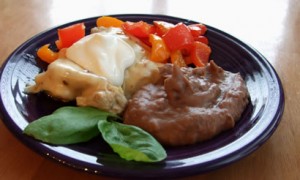 This pepper-jack cheese smothered chicken is quick to prepare and bursting with flavor. Serve this with a side of cooked black beans, or re-fried black beans and some sour cream, and you have a great meal with a kick!
2 Tablespoons coconut oil
2 bell peppers, any color, chopped
1/2 cup onion, finely chopped
1 teaspoon garlic, minced
4 boneless, skinless, chicken breast halves (pounded to an even thickness with a smooth meat mallet, for quick-even cooking)
unrefined sea salt, to taste
black pepper, to taste
4 slices pepper-jack cheese (about 1 ounce each)
Heat oil, in a large skillet, over medium heat until hot. Add bell peppers, onion, and garlic; cook until slightly softened, about 3 to 5 minutes.
Add chicken to the pan and sprinkle generously with salt and pepper. Cook until chicken is done; the juices run clear.
Top each piece of chicken, in the pan, with a slice of pepper-jack cheese. Turn off heat and cover with a lid or aluminum foil. Let stand for about 5 minutes, or until cheese melts.
Serves 4.
*Sugar-Free / Grain-Free

Email To A Friend

Print This Page