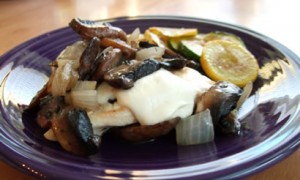 This chicken dish is simple and fairly quick to prepare. The flavors are simple, but oh so good! Feel free to keep it simple, or change it up by adding some bell pepper and changing the type of cheese and/or seasonings used. It is entirely up to you.
2 Tablespoons butter
2 Tablespoons extra-virgin olive oil
2 cups sliced, fresh mushrooms
1/2 cup onion, finely chopped
4 boneless, skinless, chicken breast halves (pounded to an even thickness with a smooth meat mallet, for quick-even cooking)
salt, to taste
pepper, to taste
1/2 teaspoon dried thyme
4 ounces grated mozzarella cheese
Heat butter and oil, in a large skillet, over medium heat until butter is melted. Add mushrooms and onion. Cook until onions are slightly softened, about 3 to 5 minutes.
Add chicken to the pan and sprinkle generously with salt, pepper, and the dried thyme. Cook until chicken is done, juices run clear.
Top the chicken, in the pan, with the grated mozzarella cheese. Turn off heat and cover with a lid or aluminum foil. Let stand for about 5 minutes, or until cheese melts.
Serves 4.
*Sugar-Free / Grain-Free

Email To A Friend

Print This Page