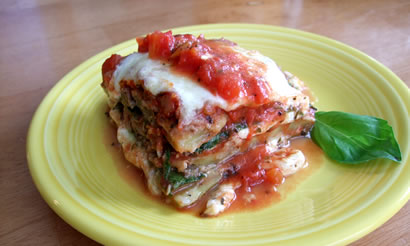 This is a healthy spin on one of my favorite dishes that I used to order at my favorite restaurant…Eggplant Parmesan. The whole family enjoys it….I'm sure you will too.
1-1/4 to 1-1/2 pounds organic Eggplant
Kosher salt
1 28-oz can Organic Chunky Tomato Sauce
OR 3 cups homemade Spaghetti Sauce (omit extra seasonings here)
2 tsp dried Basil
1 tsp dried Oregano
1/2 tsp Garlic Powder
dash of Sea Salt
pinch of ground pepper
Coconut Oil
1/2 cup garbanzo bean flour
1/4 cup almond meal
1/4 cup pecan meal
4 large eggs, beaten
1 lb of fresh mozzarella cheese, sliced into 1/4″ rounds
3/4 cup grated Parmesan cheese
1 packed cup fresh baby spinach leaves, washed and stems removed
Peel eggplant with a vegetable peeler and cut ends off; cut the eggplant length-wise into 1/4 inch slices. Place a large colander on a baking tray; arrange one layer of eggplant in the bottom of the colander, sprinkle with salt evenly. Repeat with remaining eggplant, being sure to salt each layer evenly. Weigh down the slices with a few plates and let drain for about 2 hours. The salting "sweats" the eggplant, releasing excess moisture; while the plates squeeze out the released moisture before the cooking process.
When the eggplant is almost finished "sweating" pour the can of chunky tomato sauce in a large bowl. Add the basil, oregano, garlic powder, salt, and pepper; stir until combined and set aside.
When the eggplant is finished draining, remove from colander, rinse off extra salt, and pat dry with paper towel. In a wide, shallow bowl, combine garbanzo bean flour, pecan meal, and almond meal. Mix well. In another wide, shallow bowl, beat the eggs.
Place a large, deep skillet over medium heat and pour add coconut oil and let it melt to 1/2 inch up the pan. After oil is simmering, dredge the eggplant slices in the flour mixture, then the beaten egg. Working in batches, add the coated eggplant to the hot oil and fry until golden brown on both sides, flipping once. Drain on paper towels.
Preheat the oven to 350°F. Spread about 1 cup of the tomato sauce mixture in the bottom of a 10×15 inch glass baking dish. Top with one third of the eggplant slices and then add half of the mozzarella slices on top of the eggplant. Sprinkle with one third of the Parmesan and half of the spinach leaves.
Make a second layer of eggplant slices, top with 1 cup of sauce, remaining mozzarella, and half of the remaining Parmesan, and all of the remaining spinach. Add remaining eggplant and top with the remaining tomato sauce and Parmesan.
Bake for about 30 minutes, until cheese has melted and the top is slightly browned. Before serving, allow to rest for 10 minutes.
Serves 6 to 8.
*Sugar-Free/Grain-Free

Email To A Friend

Print This Page