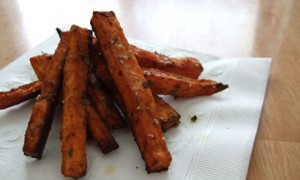 If you've never tried sweet-potato fries before, then you have been missing out. These little fries are sooooo good, and better for you than "regular" fries. They are crunchy-salty on the out-side with a slightly soft-sweet center. Everyone in my family absolutely loves them!
1 1/2 pounds sweet potatoes
3 Tablespoons coconut oil, melted
juice from 1/2 of a lime (1 Tbsp.)
1 teaspoon semi-coarse salt
1/4 teaspoon black pepper, cracked
1 1/2 teaspoons chili powder
1 teaspoon mexican oregano
Preheat oven to 425F. Lightly grease a large baking sheet with coconut oil, set aside.
Peel sweet potatoes and cut into uni-form 1/4-inch fries, being sure to toss out any small pieces as they will burn before the others are done baking (if you don't want to toss them, you can save them for another meal/recipe).
In a large bowl, mix together the melted coconut oil, juice from 1/2 of a lime, salt, pepper, chili powder, and oregano. Add the cut sweet potato fries to the bowl and toss to coat (make sure to coat each fry evenly).
Place fries on prepared baking sheet, you can place them close together…but not touching, let them have a little room. Sprinkle with a little extra salt. Bake in the preheated oven for 15 minutes, without opening the oven door. Flip, make sure they are evenly paced again, and bake another 15 to 20 minutes until they are a nice golden brown color and the edges are caramelized.
Serve fries immediately, before they get cold.
Serves 4 to 6.