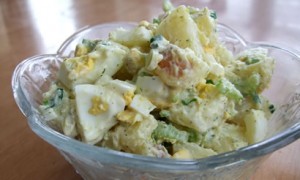 This potato salad is easy to put together and makes a great accompaniment to all of the wonderful "grilled" foods at your backyard BBQ. In the summer months you will want to serve this potato salad cold, but in the cooler months be sure to try serving it warm…..it's absolutely DE-licious! And if you like more mustard in your potato salad, feel free to adjust to your taste (when serving warm I use 1 tsp. of mustard, but when serving cold I usually double it to 2 tsp.).
1 1/2 pounds organic small red potatoes
1/4 cup homemade mayonnaise
1/4 cup sour cream
1 teaspoon Dijon mustard, or more to taste
1/4 teaspoon dried dill
sea salt and black pepper, to taste
1 to 2 stalks celery, finely chopped
2 to 3 green onions (with green tops), sliced
2 hard-boiled eggs, peeled and chopped
Place whole, unpeeled potatoes in a large saucepan, cover with cold water, add a pinch of sea salt, and bring to a boil. Allow to boil gently for 15 to 18 minutes, until the potatoes are just tender (you can test by poking with a fork…it should go in fairly easily when they are done). Drain potatoes and allow to cool slightly while preparing the rest of the ingredients.
In a large bowl, mix together the mayo and sour cream; add in the mustard and dried dill and season to taste with salt and pepper. Stir in the celery and green onions to combine.
Chop the potatoes into bite-sized pieces. Add them to the bowl with the mayo-sour cream mixture and gently fold in to coat. Follow with the hard-boiled eggs and fold in gently until everything is thoroughly mixed. If needed add more salt and pepper, to taste.
Serve immediately while still warm OR refrigerate for at least 1 hour to serve chilled.
Serves 6 to 8.