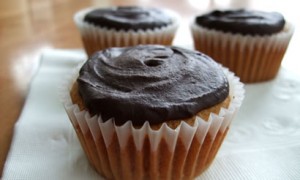 These vanilla cupcakes are simple and easy to make. They are soaked overnight in order to neutralize phytic acid, which makes them more digestible and nutritious. Read more about phytic acid in whole wheat. Frost them with either Dark Chocolate Ganache OR Whipped Cream-Cheese Frosting, they taste great both ways (chocolate ganache is shown in photo).
12 to 24 hours before you wish to make the cupcakes: In a mixing bowl, combine the flour, vinegar, and milk. Stir until moistened throughout. Cover and let set for 12 to 24 hours to soak.
The next day, or when you are ready to BAKE the cupcakes: Preheat oven to 375F. Line mini-muffin pan OR regular-sized muffin pan with paper cupcake liners, set aside.
In the mixing bowl with the soaked flour, stir in the oil, honey (or maple syrup), and vanilla.
Whisk in the egg, salt, and baking soda until no lumps remain.
Ladle (or spoon) batter into the lined muffin pan. Fill no more than about 2/3 of the way.
Bake in preheated oven:
Minis take about 10 minutes
Regulars take about 15 minutes
Makes about 3-dozen Mini Cupcakes OR 1 1/2-dozen Regular Cupcakes.