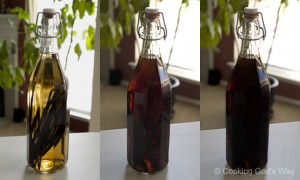 Making your own homemade vanilla extract is so easy and tastes so much better than store bought. It takes a little time steeping in the alcohol…but it is definitely worth the wait. Homemade vanilla also makes wonderful gifts during the holidays. I like to use Dark Rum when making homemade vanilla extract for superb flavor, but you can use another alcohol like Vodka, Light Rum, or even bourbon….the choice is yours.
You will need:
– 3 organic vanilla beans, per cup of alcohol used (available at Mountain Rose Herbs)
– Alcohol of choice, such as Light or Dark Rum, Vodka, Bourbon
– Closeable container, such as a decorative glass bottle or simple Mason jar (Check out these bottles)
Using a sharp kitchen knife or kitchen shears, carefully split the vanilla beans down the middle leaving one end intact. It should look like the letter "V" if you hold it up.
Place split vanilla beans in your container (jar, bottle, etc.).
Pour alcohol over top of beans to cover completely. You can make any amount of vanilla extract you wish, just be sure to use a ratio of 3 split vanilla beans per cup of alcohol.
Seal bottle/jar and store in a dark-cool place. Give the vanilla a shake often.
Vanilla will be ready to use anywhere from 4 to 6 weeks and gets even better at 8+ weeks. You will see the color get dark with age… the darker the yummier the flavor! 🙂
You can have an endless supply of vanilla extract by topping your bottle off with alcohol and vanilla bean(s) as you use it.
Use the homemade vanilla extract the same way you would store-bought extract (at a 1:1 ratio).