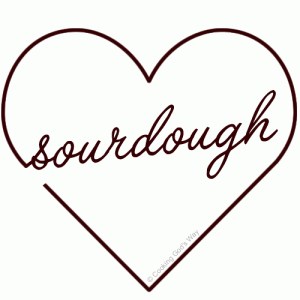 I love Sourdough because it allows me to make all kinds of delicious (and healthy) baked goods — such as crackers, pizzas crusts, dinner rolls, tortillas, pancakes/waffles, muffins, cupcakes, cinnamon rolls… The list goes on and on.  Just think about it… If it's a baked good, you can probably make it with sourdough.
Sourdough is more than just bread. It is an ancient process that enhances digestion and nutrition in baked goods. But did you know it also lowers the gluten drastically as well? To learn more about the amazing benefits of sourdough, check out the article "3 Benefits of Sourdough".
So I CAN have my "chocolate" cake and eat it too! Yum!
Sourdough is not just "sour" bread. By adjusting the culturing time (length), you can tailor the "sourness" to your tastes. Maybe you want a pineapple upside-down cake with NO sour, or some English muffins with a HINT of sour, or a nice crusty loaf of bread that is ALL OUT sour. Just about any level of sour is obtainable. You decide and the sourdough takes care of the rest.
Nutritious
Sourdough baked goods are very filling. My husband does not have to eat a whole loaf of bread with dinner to be satisfied. Enhanced digestion and nutrition in sourdough items makes you get full faster. After all, did you know you eat for nutrition and calories are secondary. I keep some sourdough pancakes in a baggie in the fridge as quick snacks for the kids. Whether it is pancakes, muffins, crackers, or rolls, I can rest assured that everyone is getting better nutrition from these baked sourdough goods and in turn they eat a lot less grains than they would compared to store bought items.
Gluten-free
We do not have anyone in our family that has gluten issues, but it is great to know that the sourdough culturing process drastically lowers the amount of gluten. After all if we don't need something why eat extra of it. All this is done without adding extra chemicals, sugar or taste enhancers like the gluten-free commercial items. When all the gluten-free foods hit the stores I was shocked to see all the added unneeded ingredients. Besides, how do you think all those extra ingredients taste? Yuk!!!
Taste
Let me  tell you about taste! If you want a moist cake that is so yummy tasting, then you want sourdough. I constantly hear from my family and friends how they can't believe how great tasting sourdough baked goods can be. It has to be all the natural goodness coming out!
I did not get into it, but of course, with sourdough you can make delicious crusty bread. And did I mention that you can also make just about any other baked good imaginable.
Sourdough makes every baked good healthier and is surprisingly easy to work with!

P.S. — Check out our Ultimate Sourdough Baking Kit and get started with sourdough today!
SAVE$$$! Purchase our "Ultimate Sourdough Kit"!

The "Ultimate Sourdough Kit" includes everything you need to get started with sourdough.

Sourdough Baking Made Easy eCourse, 10 lessons
+ 1 book, Sourdough Baking Made Easy
+ 1 Danish Dough Whisk, 15″
+ 1 Sourdough Starter, Dried

Save by purchasing the "Ultimate Sourdough Sourdough Kit"!