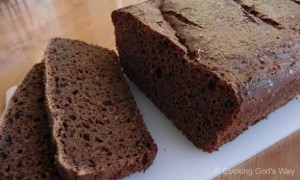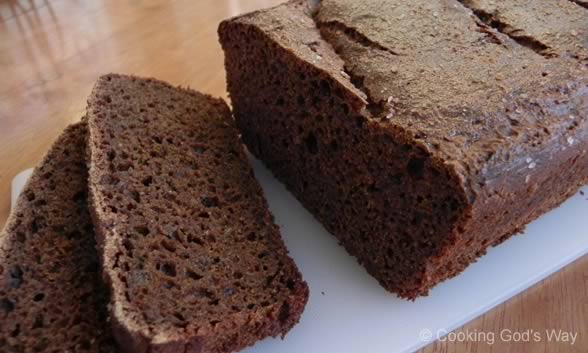 I came up with this recipe for my daughter. Every time we would go to the local market and walk by the Bakery section, she would spy this certain Russian Black Bread and drool over it – not literally, but you know what I mean 😉 So, even though she had never tasted it before, I made her this bread and she absolutely loves it! And I have to admit, so do I…though I normally do not eat a lot of bread, this one is hard to resist – especially topped with a generous portion of good butter (such as homemade Raw Butter or KerryGold). Mmmmmm!!!
1 1/2 cups previously fed sourdough starter (any kind, preferably whole grain – mine is Spelt)
1/2 cup filtered water, room temperature
2 cups whole rye flour, more or less
1 Tablespoon extra-virgin olive oil
2 Tablespoons unsulphured molasses
3 Tablespoons unsweetened cocoa powder
1 teaspoon Teeccino or espresso powder
1 teaspoon onion powder
1 teaspoon unrefined sea salt
1 Tablespoon caraway seed
1/4 teaspoon fennel seed
In a large mixing bowl, combine sourdough starter with 1/2 cup water. Add in rye flour, up to 2 cups or a little more, to form a smooth ball of dough (after dough gets too thick to mix with a spoon, simply use clean hands to knead in the flour). Dough will be slightly tacky to the touch, but still form a smooth ball. Lightly oil the bowl and ball of dough with a little olive oil or melted coconut oil. Cover bowl, loosely, and allow to stand overnight…preferably 12 hours.
After 12 hours: Prepare desired baking vessel to bake bread in by greasing with olive oil or coconut oil. Pan can be a regular loaf pan or a dutch oven, etc.
Place "soaked" dough into bowl of stand mixer. Mix in remaining ingredients, using dough hook, until thoroughly combined. Dough will get quite sticky.
Put dough into prepared baking vessel. Oil top of dough and smooth out into the pan. Cover with kitchen towel and put in a warm place, such as an unheated oven with the light turned on. Let stand for about 2 to 3 hours; letting dough rise and double in size.
Slash top of loaf using a sharp knife – 3 diagonal slashes for a regular loaf pan OR an "X" slash for a round loaf. For a more "authentic" style Russian black bread, brush top of loaf with beaten egg white and sprinkle with coarse salt (it's delicious this way).
Turn oven on, heat to 375F, and bake loaf for about 45 minutes until loaf is done; when center reaches 205-210 degrees F.
Remove loaf to a wire rack. Allow to cool for at least 30 minutes before cutting into loaf.
Makes 1 loaf.

Email To A Friend

Print This Page