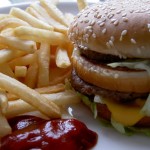 You are trying to better your health – reading more about it and making changes to your food lifestyle. Could I help you in your journey by recommending one food type to avoid? Can you take a guess what it is? Let me give you a hint it is bigger than a breadbox or even an elephant for that matter! 🙂
Ok, ok let me tell you. Fast Food!
"Well duh!," you say, "I knew that." Right I bet you did. But did you know that the biggest reason to avoid fast food is not because of its lack of nutritional value? Hmmm… Let me share some facts that may startle you and will help you  to never look at fast food the same again.
Lets look at that common fast food that adults and kids love, the chicken nugget. What an invention! It is easy to eat on the run without making a mess, its cheap, and it is chicken so it must be healthy for me. Less fat, right? WELL… according to the Organic Authority, you maybe surprised to find out that the one made by that familiar golden arches company contains only around 50% chicken. The other 50% is made up of corn derivatives, sugars, leavening agents and synthetic ingredients.
Here is the full list of ingredients: White boneless chicken, water, food starch-modified, salt, seasoning (autolyzed yeast extract, salt, wheat starch, natural flavoring (botanical source), safflower oil, dextrose, citric acid, rosemary), sodium phosphates, seasoning (canola oil, mono- and diglycerides, extractives of rosemary). Battered and breaded with: water, enriched flour (bleached wheat flour, niacin, reduced iron, thiamin mononitrate, riboflavin, folic acid), yellow corn flour, food starch-modified, salt, leavening (baking soda, sodium acid pyrophosphate, sodium aluminum phosphate, monocalcium phosphate, calcium lactate), spices, wheat starch, whey, corn starch. Prepared in vegetable oil (Canola oil, corn oil, soybean oil, hydrogenated soybean oil with TBHQ and citric acid added to preserve freshness). Dimethylpolysiloxane added as an anti-foaming agent.
Wow what a list!
What is TBHQ, listed to preserve freshness? Its full name is Tertiary butylhydroquinone. Take Notice… this is a synthetic chemical derived from petroleum, but this one is so deadly that just five grams can kill you! It is commonly used in processed foods of all kinds as it extends shelf life of the food. Also, you can find it in varnishes, lacquers, pesticide products, and cosmetics. What you get in the processed foods you eat is much less than 5 grams, but do you want just a little poison? Would you stick your finger in a can of gas and lick it off? It is just a little poison! Checkout that Dimethylpolysiloxane, says it is an anti-foaming agent, another synthetic chemical. It is a type of silicone that has anti-foaming properties and is more commonly used in cosmetics. Let's stop there with the chicken nugget list, I think you are getting it.
The biggest point I would like to bring up is: this is not real food! Real food does not contain synthetic chemicals and it rots. Believe it or not lots of fast food (burgers, buns, and fries) do not rot or decay even after many years. Want to see more on this, checkout this past article; Processed Food, is it Food Anymore? Real food provides the body with nutrients, vitamins, minerals and energy.
Lets look at one other chemical that is in most all fast food. Sodium Chloride, yes salt. Couple the fast food chemicals with the extremely high sodium levels that many of these food products contain and you have a recipe for disaster. Take for example this chicken sandwich listed as guiltless on this very popular restaurant chains menu, it contains 2,720 mg of sodium. Wow! The FDA says anything above 20%  of the daily recommended value (%DV) is considered high sodium content. This sandwich comes in at 181%DV of the 1,500mg of sodium for middle aged and older adults and this is only one meal of the day.
Your body uses great amounts water to reduce the toxic effect of sodium chloride in the food you ingested, easily causing dehydration. To understand more about the salt issue, Do I Need Salt? Life or Death? Our bodies are made up of over 75% water. Reduce the amount of water in the body and you have just put an extreme strain on your system. Try taking a lot of water out of your cars radiator and see how well it runs.
I would say fast food will really lead you to only one place fast… _ _ _ _ _ . Make better choices. Prepare for your day. You know you will need to eat, so take something with you. A easily made trail mix of raw almonds, raw cashews, coconut chips, raisins, and banana chips (unsweetened) can hold you till you get back home.
You can will the healthy lifestyle game of life with a little planing. And think of all the gas and time you will save by not sitting in that fast food drive thru. 😉
Sources: Organic Authority