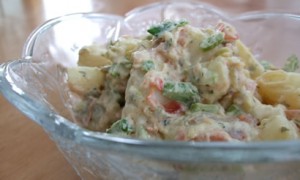 Enjoy this spicy potato salad at your next BBQ…it is sure to be a big hit. Now wait a minute, don't let the word "spicy" scare you off. This really is a great tasting potato salad, and you can adjust the spicy-ness by the kind (heat level) of salsa you use. Simply use a mild salsa for a milder version, or kick up the heat with a hotter salsa….it's your choice.

1 1/2 pounds organic small red potatoes
1/2 cup salsa (store-bought OR homemade lacto-fermented salsa)
1 teaspoon Dijon mustard, or more to taste
sea salt and black pepper, to taste
1 to 2 stalks celery, finely chopped
2 to 3 green onions (with green tops), sliced
hot sauce or ground cayenne, if desired for more spice (my salsa is usually hot enough, so I don't use this)
Place whole, unpeeled potatoes in a large saucepan, cover with cold water, add a pinch of sea salt, and bring to a boil. Allow to boil gently for 15 to 18 minutes, until the potatoes are just tender (you can test by poking with a fork…it should go in fairly easily when they are done). Drain potatoes and place in the fridge until cooled to at least room temperature OR place in a bowl of ice water and allow to cool down while preparing the rest of the ingredients.
In a large bowl, mix together the ranch dressing and salsa; season to taste with salt and pepper. Stir in the celery and green onions to combine.
Chop the cooled potatoes into bite-sized pieces; add to the bowl with the dressing-salsa mixture and gently fold in to thoroughly coat. If needed add more salt and pepper, to taste. If you would like the potato salad spicier, simply add a few drops of hot sauce OR some cayenne pepper to taste.
Refrigerate for at least 1 hour and serve chilled.
Serves 6.