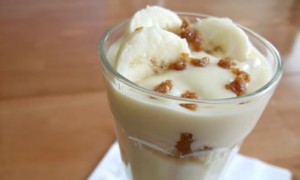 Who doesn't like creamy banana pudding, with all those layers of sweet banana hidden between the pudding? This banana pudding is easy to make on the stove-top, no baking required. And if you decide to try the Buttery Flax-Cinnamon Topping, be prepared for an out of this world treat 🙂 So simple…………but so good!
3 cups raw whole milk
1/4 cup raw honey
smidgen of NuNaturals NuStevia™ White Stevia™ Powder, optional
3 Tablespoons arrowroot powder (if you don't have arrowroot, in a pinch you could use

all

all-purpose flour – about 1/4 cup)
2 Tablespoons all-purpose flour
1/8 teaspoon unrefined sea salt
2 large eggs
1 large egg yolk
1 1/2 teaspoons vanilla extract
1 Tablespoon butter
4 to 6 large ripe (firm) bananas
Buttery Flax-Cinnamon Topping (see recipe below), optional
In a large stainless steel (or heatproof) bowl whisk together the eggs, egg yolks, salt, and 1/2 cup of the milk until well beaten. Whisk in the arrowroot and flour until no lumps remain, set aside.
Rinse a medium-sized heavy saucepan with cold water, turn upside-down over sink to let excess water drip out. (Wetting the saucepan will help to keep the milk from scorching.) Pour in the remaining 2 1/2 cups of milk, along with the honey and stevia powder, bring to just boiling (stirring frequently).
Gradually, and slowly, pour the hot milk-honey mixture into the egg mixture while whisking constantly. The mixture should be smooth. Transfer mixture back to the saucepan and place over medium heat. Cook, stirring/whisking constantly, until the mixture thickens (about 3 to 5 minutes).
Remove from heat and whisk in the butter and vanilla extract. Pour pudding mixture through a mesh strainer to remove any lumps that may have formed during the cooking process.
Cover and place in the refrigerator to chill for several hours, or overnight.
Once mixture is well chilled, and right before (or a couple of hours before) serving make the individual pudding trifles:
Place a spoonful, or two, of the pudding in the bottom of an individual serving dish such as a small dessert glass or bowl. Next, place a layer of several slices of ripe banana; followed by another layer of pudding. Repeat this as desired, always finishing with a layer of pudding for the top layer. (For an extra-special touch sprinkle some Buttery Cinnamon-Flax Topping on top of each banana slice layer, see the recipe below.)
You may top with whipped cream, if you wish, and eat right away. Or just place the pudding/banana layered dessert dishes in the refrigerator and top just before serving.
Serves 6.
Buttery Flax-Cinnamon Topping

2 Tablespoons butter
pinch of ground cinnamon
1 teaspoon dark muscovado sugar
4 Tablespoons ground golden flax seed

Melt butter. While butter is still warm, stir in cinnamon and sugar until dissolved. Add in ground flax and stir until moistened through.

Crumble/sprinkle over top of individual pudding servings. Or sprinkle in between layers of pudding and banana slices.

Makes 1/4-cup topping.

Email To A Friend

Print This Page