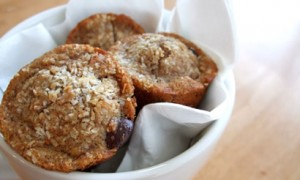 These muffins make great little 'special' treats for kids (or the kid in all of us :)). Use at least 60% cacao chocolate chips (70% is even better) as they have much less refined sugar. You can even omit the chips all-together and add more nuts and/or raisins, or even dried apricots are great as well. You really can change the add-ins to suit your taste.
1 1/2 cup whole spelt flour
3/4 cup whole plain yogurt
1 large egg
1/4 to 1/3 cup raw honey, softened slightly if needed
1/4 coconut oil, melted
1 teaspoon vanilla extract
1/2 teaspoon salt
1 teaspoon baking powder
1 teaspoon baking soda
1 cup mashed over-ripe banana
1/2 to 3/4 cup 60% to 70% cacao chocolate chips
1/2 cup chopped walnuts
finely shredded unsweetened coconut, for sprinkling tops before baking (optional)
12 to 24 hours before you wish to make the muffins: Mix spelt flour and yogurt together in a large mixing bowl, start off with a wooden spoon or spatula. Finish by using your hands to knead in the rest of the flour/yogurt until a completely moistened ball of dough forms. Cover the bowl with a towel or plastic-wrap and let set for 12 to 24 hours.
The next day, when you are ready to BAKE the muffins: Preheat the oven to 400F. Grease mini-muffin cups lightly with coconut oil and set aside.
In a medium-sized mixing bowl, whisk together the egg, honey, and coconut oil. Whisk in the vanilla salt, baking powder, and baking soda until no lumps remain. Pour this liquid mixture into the bowl of soaked dough and fold in with a rubber spatula or wooden spoon until partially mixed. Add in the mashed banana and continue to fold in until mixed all the way through. Fold in chocolate chips followed by the chopped walnuts.
Fill prepared muffin cups approximately 2/3 full. Sprinkle the tops of the batter with some finely shredded unsweetened coconut, if desired. Bake for 10 to 12 minutes, or until the tops and edges are golden and a toothpick inserted in the center of muffin comes out clean. Cool 2 to 3 minutes in pan, remove to wire racks to cool completely.
Makes approx. 2 1/2-dozen mini-muffins.