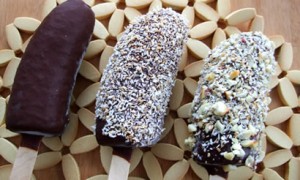 Kids, of all ages ;), love these chocolate-covered banana pops. Since they are quite easy to make, it's a perfect opportunity to let them help you in the kitchen while you are making these. You can top the pops with your favorite toppings, such as shredded toasted coconut, lightly toasted chopped nuts of choice, or just leave them plain and simple….they are a yummy treat either way!
4 ounces unsweetened baking chocolate, chopped
4 Tablespoons virgin coconut oil
4 Tablespoons raw honey
3 large OR 4 medium-sized, ripe bananas
6 to 8 wooden popsicle sticks
Toppings: shredded, unsweetened, toasted coconut
AND/OR chopped roasted peanuts, or other nuts (if desired)
Peel the bananas and cut in half, crosswise (not lengthwise). Insert a wooden popsicle stick into the cut end of each banana; being sure to stick it in far enough so the banana will not fall off, but not too far that it pokes out the top. Place the "sticked" bananas in the freezer on a piece of parchment paper. Freeze for at least 3 hours, or until frozen solid.
Melt the coconut oil and honey in a small saucepan on the stove, over very low heat. Add the chopped chocolate and stir continuously until thoroughly melted.
Pour the chocolate sauce into a tall skinny glass, or other tall-slim container. Take one banana out of the freezer and dip it in the chocolate sauce, coating all sides completely. Wait a few seconds and dip again, letting the excess sauce drip off, then immediately roll in the topping(s) of choice, if using. Transfer back to freezer, on the parchment paper, and allow chocolate to harden. Repeat with the remaining bananas.
You may serve the banana pops right away, after a few minutes in the freezer to allow the chocolate to harden, or you may save them for a later treat; just wrap them in some plastic wrap once they are solid.
Makes 6 to 8 banana pops.
NOTE: If you have some chocolate sauce left over, don't dump it out. Make some quick fudge instead. Simply line a small baking pan, such as a mini-loaf pan, with plastic wrap. Pour left-over melted chocolate into lined pan. Top with some shredded coconut and/or chopped nuts, and place in freezer to harden. Once hard, remove from freezer and lift out of pan by grab sides of plastic wrap. Let soften slightly for a minute, cut into bite-sized squares and transfer to a container in the fridge to keep until ready to serve (otherwise the chocolate will melt).