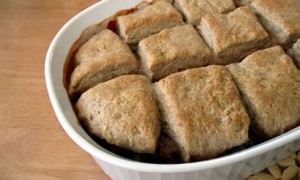 This is another one of those great comfort-food meals. Try using our Homemade Spelt Biscuits, or any other whole-grain biscuit recipe you wish to top this dish.
2 pounds grass-fed ground beef
1 cup onion, chopped
1 teaspoon garlic, minced
1-1/2 teaspoon dried oregano
1 teaspoon dried basil
2-1/2 cups mixed vegetables
1 can (14-1/2 ounces) diced tomatoes
1 Tablespoon arrowroot powder
unrefined sea salt and black pepper, to taste
homemade biscuit dough, try our Homemade Spelt Biscuits
Preheat oven to 400°F. Lightly grease a 3-quart casserole dish with butter or coconut oil.
Add ground beef, onion, and minced garlic to a large skillet over medium heat; cook until beef almost done (only a little pink remains). Add oregano, basil, and vegetables; cook until beef is cooked through and vegetables are tender.
In a glass, or a small bowl, drain the juice from the canned tomatoes. Mix in arrowroot powder with a fork or small whisk until no lumps remain. Add the canned tomatoes and the arrowroot juice mixture to the cooked beef mixture. Stir until mixed through and bring to a gentle boil. Keep at a light boil until slightly thickened, about 3-5 minutes. Season to taste with salt and pepper. Add to prepared casserole dish and set aside.
Prepare the biscuits and drop, or place, them on top of the beef mixture in the casserole dish, leaving a little space between each one. Bake for 15-20 minutes, or until casserole is bubbling and biscuits are done. Remove from oven and let rest 10 minutes before serving.
Serves 8.