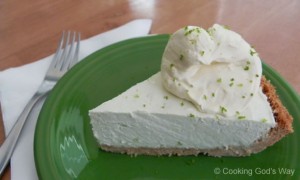 This "key lime" pie is easy to make and the perfect dessert for spring-summer. It is very rich and creamy, so a little slice goes a long way. Top this key lime pie with homemade whipped cream and/or strawberries. Or for a lovely treat, top with a fluffy meringue topping (see instructions below).

1 baked and cooled Coconut Crust (recipe here)
16 ounces cream cheese, softened
1/2 cup raw cream
1/2 cup freshly squeezed key lime juice
OR regular lime juice
1/4 teaspoon stevia powder
OR 1/3 cup honey (use only stevia if on a sugar-free diet)
1 1/2 teaspoons Gelatin Powder

1 teaspoon lime zest
OR 1/2 teaspoon Natural Lime Extract
Pinch (1/16 tsp.) Spirulina Powder, for natural light green color (optional)
Have ready 1 baked and cooled coconut crust, set this aside.
Pour 1/2 cup cream into a small saucepan. Sprinkle gelatin evenly over top of cream. Allow to "bloom" (absorb) for 5 minutes.
Heat over medium heat, stirring often until gelatin dissolves. Remove from heat and set aside.
Meanwhile, beat the cream cheese until creamy. Add in the stevia (or honey) and lime zest (or extract), beating until incorporated. With mixer running, slowly pour in the lime juice, beating until creamy.
Add the gelatin-cream mixture from the sauce pan and beat on high-speed until well mixed and fluffy (about 1 minute).
If using spirulina powder, gently sprinkle in with the machine running to avoid clumps. Process again to combine.
Pour filling into prepared pie crust and place in the refrigerator for several hours (or overnight) until well chilled and firm.
Serves up-to 16.
*Sugar-Free / Grain-Free (with the use of stevia)
Meringue Topping (

not

sugar-free)

3 egg whites, at room temperature
1/4 teaspoon cream of tartar
1/2 teaspoon vanilla extract
4 Tablespoons rapadura or sucanat

In a clean mixing bowl – beat the egg whites, vanilla, and cream of tartar on medium speed until soft peaks form.

Beat in sugar 1 Tbsp. at a time on high speed, until stiff-glossy peaks form (about 4 minutes).

Cover chilled pie with meringue, being sure to seal all the way to the edge of the pie and over the crusts edge.

Bake at 325F until meringue is nice and browned, about 15 minutes. Chill pie for 30 minutes, or longer as needed or desired, and serve.


Email To A Friend

Print This Page