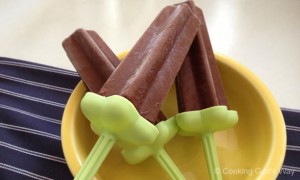 These homemade fudgsicles utilize those over-ripe bananas you might have lying around. The bananas give the popsicles a creamy texture and natural sweetness.
They're a favorite of both kids and adults alike. These pops definitely don't last long in my house! 🙂

"Naturally Sweetened" Creamy Fudge Pops
These easy to make fudgsicles are a healthy, yet tasty treat that everyone will enjoy.
Ingredients
4 small over-ripe bananas (about 6-inches long each)
¼ cup milk (whole milk, coconut milk, almond milk, etc.)
½ teaspoon vanilla extract
pinch sea salt
¼ cup unsweetened cocoa powder
Stevia or honey/maple syrup, to taste (optional)
Instructions
Peel the bananas and add to a blender with your milk of choice. Blend until smooth.
Add in vanilla, salt and cocoa powder and process again until well blended.
Taste-test the mixture for sweetness. If desired add a few drops of liquid stevia or some maple syrup/honey to taste, processing again to combine.
Pour mixture into popsicle molds and freeze for several hours or overnight, until frozen through.
Notes
Tip: For easier release from the popsicle molds, run under lukewarm water for several seconds to loosen.

Makes 5 to 6 Popsicles.