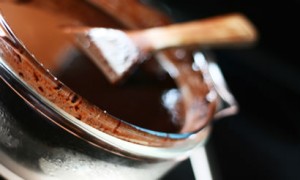 Chocolate Ganache is so easy to prepare, yet it makes cakes/cupcakes taste so decadent. Not to mention it is so versatile. Use it as a glaze to pour over a cake or a whipped frosting to pipe or spread on top of a cake…..either way it is delicious!
4 ounces unsweetened baking chocolate (100% cacao)
1/2 cup heavy cream (raw is best, or store-bought but NOT ultra-pasteurized)
4 Tablespoons raw honey
1/2 teaspoon vanilla extract
Finely chop chocolate and add to a medium-sized heat-proof bowl.
In a small saucepan add cream and honey. Heat over medium, stirring constantly; once mixture comes to a boil, remove from heat. Immediately stir in vanilla and pour mixture over chopped chocolate. Fold in until all chocolate is melted and mixture is smooth.
To use as a Glaze: Immediately pour melted chocolate over cooled cake. Store covered cake in fridge until serving.
To use as a Whipped Frosting: Place bowl with melted chocolate into the refrigerator. Allow to cool completely. Using an electric mixer, beat the chocolate just until whipped and fluffy (DO NOT over-beat or the mixture will turn to chocolate butter…still tastes great, but not spreadable at all). Pipe (with a pastry bag and tip) or spread the whipped frosting onto a cooled cake or cupcakes. Store frosted cake/cupcakes in fridge until serving.
Makes enough Ganache to cover a 1-layer cake.