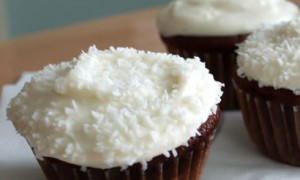 This whipped cream cheese frosting is a wonderful light and fluffy frosting, perfect for chocolate, carrot, or spice cakes. I like to top it with finely shredded unsweetened coconut for a special touch. Another great use for this "frosting" is as a delicious dip for fresh fruit.

3/4 cup heavy cream (raw is best, or store-bought but NOT ultra-pasteurized)
4 ounces cream cheese, softened
1/4 cup raw honey, softened
pinch (1/16 tsp.) sea salt
1/2 teaspoon vanilla extract
Beat cream in a mixing bowl until stiff peaks form, set aside.
In another bowl, beat cream cheese, honey, salt, and vanilla until smooth and creamy.
Gently fold in the whipped cream to the cream-cheese mixture until combined.
Frost cooled cake or cupcakes immediately. (For a special touch sprinkle top of cake/cupcakes with finely shredded unsweetened coconut.) Store the frosted cake (cupcakes) in fridge until ready to serve.
Makes enough frosting to cover a 1-layer cake.