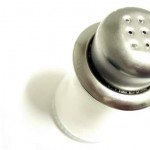 Salt has been a part of American life just like baseball and apple pie. I remember my Mom buying Morton salt. That neat blue paper wrapped container with the drawing of the cute little girl standing in the rain with her umbrella while pouring salt on the ground. Neat. We were all told that we needed iodized salt to avoid thyroid issues (hypothyroidism). I don't think many of us understood what issues we were avoiding, but we were good and did what our Doctors' suggested.
So where am I going with all this talk about Salt? Well, I am actually focusing on iodized salt. Yes, regular common table salt. Iodine is an important mineral and is in thyroid hormones, the brain, cerebro-spinal fluid, ovaries and they eyes to name just a few. It is also, needed to insure normal growth and development. Wow, iodine is definitely important to our health!
What is the catch then?
Processing…Iodized Salt is over processed. Let me explain. Salt in its natural state is a mixture of Salt (Sodium Chloride) and trace minerals and elements. This mixture is of a more natural balance. Iodine is in the trace minerals and elements of natural salt. Our processed salt is 97.5% Sodium Chloride and 2.5% chemicals such as moisture absorbents, and iodine.. The salt processor sees the minerals and elements in the salt as impurities so they remove as much of them as they can and then add back in the iodine.
Where is the problem in that?
The problem is that our body needs organic (naturally occurring) iodine along with the other elements and minerals. Purified sodium chloride and purified iodine is just too much for our body. Over consumption of iodine can lead to hypothyroidism and hyperthyroidism, the very things we are told that is avoided by consuming iodine.
Where do I get my iodine then?
Good green organic vegetables, grass fed beef, seafood, cow's milk, yogurt, eggs are good sources of organic iodine. If we just eat the good wholesome food and stay away from the processed stuff we are much better off.
Next.. we will talk about what table salt does to your body and how to avoid those issues.
Later…. Jeff
Sources:
– The Weston A. Price Foundation (The Great Iodine Debate)
– "Water and Salt, The Essence of Life" by Dr. Barbara Hendel & Peter Ferreira