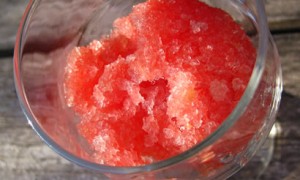 This watermelon margarita "mocktail" tastes similar to the real thing, but is non-alcoholic…so even the kids can enjoy it (and definitely will 🙂 ). It is very a refreshing drink and perfect for those hot summer days. For a more authentic margarita style drink, rub lime on edge of glass and dip in sea salt (you may want to skip this step for the kiddies).

3 cups fresh watermelon, removed from rind and cut into 1-inch cubes
2 to 3 Tablespoons lime juice, to taste
1/4 teaspoon pure orange extract
15 to 20 drops Pure Liquid™ Clear Stevia™, or more to taste
2 cups ice cubes
slices of lime, for garnish
Pinch of sea salt, PLUS more for rim of glass (optional)
Blend watermelon, lime juice, orange extract, and pinch of salt together until smooth. (If watermelon is not super juicy, you may need to add just a little water to get the blender going.)
Add a stevia to blender until desired sweetness is reached (remember it will get diluted a bit due to the ice).
Add ice to blender and blend until smooth.
Rub slice of lime on rim of glass, dip glass in sea salt (this step is optional, but makes for a more authentic margarita).
Fill glass and enjoy!
Serves 4-small OR 2-larger drinks
For a really slushy watermelon drink, place blended mixture into a freezer-safe container. Place in freezer, checking often, until desired consistency is reached. To serve, use a fork to grate (scrape) the mixture into small shavings.