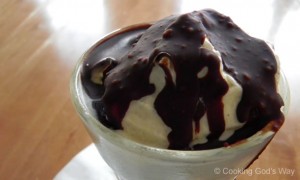 Once upon a time, "Magic Shell" was my absolute favorite ice cream topping. It's been a long time since I've tasted it. Now that we avoid all processed foods, packaged, bottled foods in our home…I decided to make my own. It's so easy and I knew the kids would love it as much as I do. And indeed they did! Give it a try and see how your family enjoys it. This topping is just like the real thing, but without hordes of sugar or other weird ingredients.
1/2 cup virgin coconut oil
1 bar (4 ounces) 100% cacao unsweetened baking chocolate, chopped

1/4 cup to 1/3 cup honey or maple syrup, or to taste
Pinch (1/16 tsp.) unrefined sea salt
1/2 teaspoon vanilla extract
1 Tablespoon butter (optional)
Melt coconut oil in a small saucepan over low-medium heat.
Add in chopped chocolate and salt – stir until melted and dissolved.
Remove from heat and stir in honey (or maple syrup), vanilla, and butter (if using) until dissolved and melted through.
Allow to cool slightly before using (if it is too hot it will melt the ice cream).
To Use: Scoop ice cream into bowl. Drizzle desired amount of "magic shell" over top of ice cream. Wait several seconds and the topping should harden. If needed you can place the bowl of "magic shell" topped ice cream into the freezer for just a few seconds to ensure it hardens completely.

Store leftover sauce in a small jar in the refrigerator. It will harden in the fridge. To re-melt, place the jar in a small sauce pan that is filled with a few inches of water. Simmer gently on low heat until sauce is melted.
Serves 6 to 8.