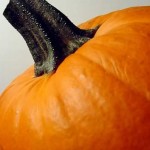 Roasting pumpkin at home, to make homemade pumpkin puree, is much easier than it sounds or looks. The results are well worth any time spent. Not only does the final product taste better than "canned" store-bought pumpkin, but it is also just better for you (no BPA from cans, and you are not processing it under high heat and pressure – which destroys enzymes and nutrients).
There are many ways to make homemade pumpkin puree. I make mine using the simple instructions given by Alton Brown on Good Eats. Using this method the puree turns out consistent every-time, and delicious too!
You Will Need:
– 1 sugar "pie" pumpkin
– cutting board
– large, sharp knife
– large(ish) metal spoon
– baking sheet
– parchment paper
– unrefined sea salt
– food processor
Preheat oven to 400F. Line a baking sheet with parchment paper, set aside.
Snap, or break off, stem of pumpkin. (This is best achieved by turning the pumpkin on its side and using the palm of your hand.)
Using a large knife, cut pumpkin in half from stem-end to bottom.
Scoop out the seeds and stringy pulp using a large metal spoon (if you have an ice cream spade this works well).
Save the pumpkin seeds for roasting, as they make a great nutritious snack.
Sprinkle exposed, cut-sides, of pumpkin with unrefined sea salt (I use Himalayan salt). Place pumpkin cut-side down on parchment lined baking sheet.
Place in preheated oven and bake for 30 to 45 minutes, until flesh is easily pierced with a knife.
Allow pumpkin to cool for 1 hour to avoid burning your hands.
Scoop out pulp, using the same large metal spoon, and place into the container of food processor.
Process for 3 to 4 minutes, until pumpkin is pureed and smooth.
Puree can be refrigerated for up-to 1 week OR frozen for up-to 6 months.
You can use your puree right away to make:
– Pumpkin Pie
– Pumpkin-Spice Muffins
– Baked Pumpkin Custard

Email To A Friend

Print This Page
Good Eats: American Classic IX: Pumpkin
In this episode of Good Eats, Alton shows us how easy it is to roast a pumpkin and make our own homemade pumpkin puree. So take a look, he is always fun to watch in the kitchen. 🙂