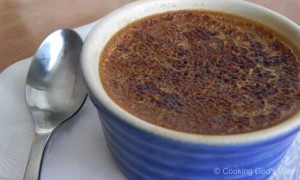 Custards are delightful desserts and this baked pumpkin custard fits into that same category…smooth, rich, and creamy. Most assume that making custard is difficult…it does take some time and careful watching, but it's so worth the effort!
I like to serve these custards with a creme-brulee style sugar topping (see instructions below)…. Yummm, it's so good! But I'm sure the custard would be equally good with a little dollop of whipped cream as well.

3/4 cup homemade pumpkin puree
OR canned pumpkin (NOT pie filling)
2 large eggs
1/2 cup rapadura or sucanat
1 teaspoon vanilla extract
1/2 teaspoon ground ginger
1/4 teaspoon unrefined sea salt (omit if using salted butter)
1/2 cup (1 stick) butter, melted and cooled slightly
1 cup raw whole milk
You Will Also Need:
– 4 to 6 ramekins
or custard cups, about 6 ounces each (either glass, porcelain, or ceramic will work)
– baking dish that is at least 2-inches deep and will hold all the custard cups
– hot (almost boiling) water
Preheat oven to 325F. Have ready 4 to 6 small ramekins
(about 6-ounces each).
In a large bowl, whisk together the pumpkin, eggs, sugar, vanilla, ginger, and salt (if using). Slowly pour in melted butter, in a continuous stream, while whisking. Follow with milk, whisking until smooth and all ingredients are well incorporated.
Place ramekins (or custard cups) into the bottom of baking pan, being sure to leave some space from the sides of the pan and in-between cups.
Pour very hot water around the custard cups in the baking pan to just over half-way up the side of the cups. Be careful to not get any water into the custard cups, but if you do get a drop or two just carefully dab it out with a paper towel.
Pour the custard batter into the cups, filling them almost to the top, about 1/4-inch from the very top rim.
Carefully place the filled pan into the oven.
Close oven and baking for 45 to 55 minutes, or until custard is just set; being careful to not over-cook the custards. (A knife inserted in the center should come out clean.)
Carefully remove pan from oven. Allow to cool for a few minutes, then transfer cups to a cooling rack that is lined with a paper towel. Once cooled, place custard cups in the fridge to chill.
For a simple dessert, serve custard chilled, topped with a dollop of whipped cream.
For a really fabulous dessert, serve chilled, with a "Brulee" style sugar glaze on top (see note below on how to do this).
Making Sugar Topping for Custards (Like Creme Brulee)

Method 1 – Use A Kitchen Torch

Evenly sprinkle about 1 tsp. of sugar on top of well chilled custard (powdered rapadura or sucanat works best – just whizz it in your blender, food processor, or vitamix). Light kitchen torch, and using even-smooth movements, pass over top of sugar to melt and caramelize. Be careful to not get the flame too close to the sugar, or it will melt too quickly and then burn. Repeat with remaining custard cups. Allow to cool a few minutes before serving.

Method 2 – Using Your Oven's Broiler

Make sure custards are very well chilled. Sprinkle each with about 1 tsp. of sugar (powdered rapadura or sucanat works best – just whizz it in your blender, food processor, or vitamix). Place them in a baking pan like when you baked them. Fill around the custard cups with plenty of ice. Place pan full of custard cups with ice inside oven with preheated broiler, place oven rack so the sugar-topped custard cups are about 2-inches from broiler. Watch carefully, when sugar is melted and caramelized remove from broiler. Allow to cool a few minutes and serve.
Serves 4 to 6.