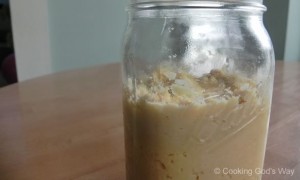 Traditional hummus makes a great healthy snack when served with some fresh veggies along side.
THIS hummus is even more "nutritious" due to the lacto-fermentation process, which creates beneficial probiotics and numerous enzymes that are so important for good health. So, go ahead and serve this version at your next get together…you will get rave reviews on the dip, and no one will even know just how "healthy" it is.
3 cups cooked, drained, garbanzo beans (see *note* below)
1/4 cup lemon juice
2 cloves garlic, peeled
2 teaspoons unrefined sea salt
1/4 cup whey (see how to obtain whey)
1/2 to 1 teaspoon ground cumin, to taste
1/8 teaspoon ground cayenne, or to taste
2 to 4 Tablespoons filtered water, or more as needed
You Will Also Need:
1-quart sized wide-mouth jar (preferably with air-lock lid)
*NOTE* For best nutrition – soak dried garbanzo beans 12 hours (or more) in filtered water to cover, along with a few Tablespoons of whey. View more research on the importance of soaking beans from Amanda Rose Ph.D. @ Rebuild from Depression.

After soaking, drain the beans and cook as you would normally. (I like to cover the "soaked" beans with filtered water and cook in the crock pot on low all day – about 6 to 8 hours.)
In the bowl of a food processor, add the garlic and pulse to mince. Add in the beans, lemon juice, sea salt, whey, cumin, and cayenne. Process until a paste forms.
Add in filtered water, a little at a time, until desired consistency is reached.
Transfer bean mixture to a 1-quart wide mouth jar. Place lid (preferably air-lock lid) on the jar tightly. If using air-lock fill with water according to instructions. Allow to ferment at room temperature for 3 days.
Remove air-lock lid, if using, and replace with storage lid — transfer to cold storage.
Serve at room temperature. For a nice presentation, drizzle dip in serving bowl with olive oil and/or sesame oil. (A light dusting of paprika on top also makes a lovely addition.) Serve with fresh veggies and/or pita chips
Makes 1-Quart.