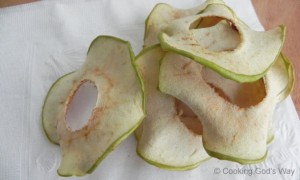 Apple Chips are a great snack anytime of the day. These yummy apple chips are light, crispy, and naturally sweet….they are sure to satisfy that sweet craving and will nourish your body as well. So when you want something sweet, don't snack on sugar-filled foods…eat these instead 🙂

Kids love this crunchy-sweet treat!
2 or 3 granny smith apples
juice of 1/2 a lemon
1 cup filtered water
ground cinnamon, optional
You will also need:
– Mandoline Slicer

– apple corer
– bowl
– food dehydrator OR oven set at 160F to 170F along with baking sheets lined with parchment paper
– fine-mesh sieve or sifter, optional (for cinnamon topping)
In a large bowl, combine lemon juice and water; set aside.
Wash and dry apples. Remove core using an apple corer.
Slice apples cross-wise using a mandoline
set at 1/8-inch (3mm).
Immediately place apple slices into lemon water to keep from turning brown.
Shake off excess lemon-water from each apple slice as you place onto food dehydrator trays (or parchment-lined baking sheets if using oven).
If desired, lightly "sift" some ground cinnamon over top of each slice by using a small fine-mesh sieve.
Dry in food dehydrator set at 135F for 6 to 8 hours OR in oven set on lowest setting (160F to 170F) for about 2-1/2 hours or more depending on size.
Apples will crisp up slightly as they cool. So watch them carefully.
Note: If using oven, flip apple slices occasionally during baking, as they will tend to stick otherwise.
Amount Varies.
* Sugar-Free / Grain-Free

Email To A Friend

Print This Page