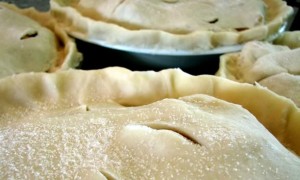 Pâte Brisée [paht bree-ZAY] is a French term for "short pastry". It is a rich, flaky dough used for sweet and savory crusts for pies, tarts, quiches, etc. This dough is very forgiving and easy to work with, if it rips when rolling it out simply press it back together. This recipe has been updated to include a soaking period, in which the small amount of vinegar added will work on the Phytic Acid (anti-nutrients) in the flour; thus neutralizing them…making it more easily digestible and more nutritious.
1 1/4 cups whole wheat pastry flour
1/2 teaspoon unrefined sea salt (decrease, or omit, if using salted butter)
1 teaspoon rapadura or sucanat
1/2 cup (1 stick) butter, chilled and cut into small cubes
1 Tablespoon raw apple cider vinegar
1 to 3 Tablespoons ice water, as needed
In the bowl of a food processor, combine flour, salt, and sugar. Pulse once or twice to combine.
Add cold butter and process until the mixture resembles coarse meal, about 8 to 10 seconds.
With machine running, add vinegar. If mixture is still dry, not holding together in a ball, add ice water 1 Tbsp. at a time until it does.
Pat dough into a uniform ball. Flatten ball into a 1/2-inch thick disc and wrap tightly in plastic.
Allow to sit overnight, about 8 hours, at room temperature.
Transfer to the refrigerator and chill for 2+ hours (or overnight) until firm and cold.
You may have to let the dough warm up slightly before rolling out. Use plenty of flour and/or roll the dough between waxed paper to keep it from sticking.
Use as called for in your favorite pie, tart, or quiche recipe.
Tip: Dough may be frozen, and stored in freezer for up to 1 month.
Makes 1 single-crust, 9- to 10-inch pie or tart.