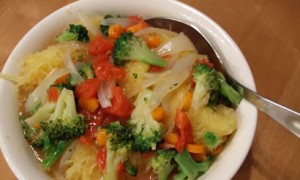 This spaghetti-squash primavera is great as side dish with a meal; it would be equally as great for meal by itself….it is very filling. If using this recipe for a complete meal by itself, I would double the recipe (if it's to serve more than 2 people). Don't forget to sprinkle each serving generously with fresh grated Parmesan cheese.
Note: You will only use half of the 2 lb. squash for this side-dish recipe. Cook and shred the whole thing up, use half of the shredded squash for this recipe and save the rest for another meal. You can make spaghetti squash pancakes out of the remaining shredded squash…yumm! Check out this page for more info on spaghetti squash.
half of a 2 pound spaghetti squash (cut in half length-wise), see note above
1 Tablespoon extra-virgin olive oil
1 Tablespoon butter
1 cup broccoli florets (fresh or frozen)
1/4 cup sliced carrots
1/4 of medium onion, cut into wedges and sliced thin
1 small tomato, diced (about 1/2 cup)
1/4 teaspoon dried oregano
1/2 teaspoon dried basil
1/8 teaspoon garlic powder
salt and pepper, to taste
1 Tablespoon arrowroot powder
3/4 cup chicken broth
Parmesan Cheese, for sprinkling over each serving
Preheat oven to 350F. If you haven't done so already, carefully cut the spaghetti squash in half length-wise. Place both halves cut side down in baking dish; pour water in the pan up to 1/2″ in the sides of the squash. Bake for approximately 1 hour, or until squash is fork tender. When cooked through, remove squash halves from pan and let sit until cooled slightly.
Meanwhile, heat olive oil and butter in a large skillet over medium heat. Add vegetables and saute until almost tender. Season with the oregano, basil, and garlic. Pour in 1/2 cup of the chicken broth and cook until all vegetables are tender and the broth is boiling.
Mix the arrowroot powder with the remaining 1/4 cup chicken broth, add this mixture to the skillet and turn off heat. But continue to stir until thickened. Season to taste with salt and pepper.
*While the sauce is thickening, shred the squash. Shred one half into a large serving bowl, and the other half shred into a container to keep in the fridge for later. Cover the serving bowl to keep the squash warm.
Pour the hot-thickened vegetable mixture over the shredded squash in your serving bowl. Mix vegetables and spaghetti squash together until well combined. Serve immediately. Sprinkle each individual serving generously with fresh grated Parmesan cheese.
Makes 4 to 6 side-dish servings.
*Sugar-Free / Grain-Free

Email To A Friend

Print This Page