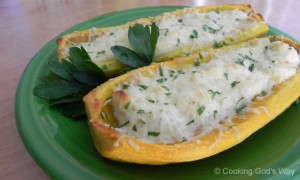 Delicata Squash is one of my favorite foods of the fall season. It is a fairly small winter squash with a wonderfully rich flavor and creamy texture, reminiscent of butternut squash — but easier to work with. Delicata Squash is delicious so many ways, but this "stuffed" version is both beautiful, presentation-wise, and tastes great. It makes the perfect side with any meal, especially around the Holidays!
2 to 3 small Delicata Squash
3/4 cup sour cream
2 Tablespoons butter or ghee
1/2 cup finely chopped onion
1 stalk celery, finely chopped
1 clove garlic, minced
unrefined sea salt and white or black pepper, to taste
Parmesan Cheese, grated (about 2 Tbsp. per squash)
Prepare Squash: Cut stem-end of squash off, discard (being careful not to cut too deep or you will cut a hole in the squash). Peel squash using a vegetable peeler (it is said you can eat the skin of delicata squash, but in this dish we prefer it peeled much better). Cut squash in half, lengthwise and scoop out seeds along with inner membrane. You can keep the seeds and roast them as you would with any other winter squash.
Preheat oven to 375F.
Generously grease a rectangular baking dish with coconut oil, ghee, or butter. Place squash in baking dish cut side up.
Bake for 30 minutes. Meanwhile prepare filling.
Melt butter in a medium skillet. Saute onion, celery, and garlic until tender. Remove from heat and allow to cool slightly.
When mixture is no longer hot (can be still a little warm) stir in sour cream and season to taste with salt and pepper. Stir mixture well to combine.
After baking for 30 minutes, remove squash from oven and fill halves with sour cream mixture.
Bake for 20 to 30 minutes more until squash is tender and filling heated through.
Top squash with grated Parmesan cheese, if desired place under broiler for a couple of minutes until cheese is bubbly.
Serves 4 to 6.
* Sugar-Free / Grain-Free

Email To A Friend

Print This Page