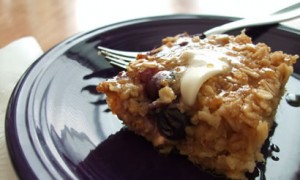 These baked oatmeal squares are easy to make, and can be topped or filled with any fruit you like. When serving these, for an extra special touch – top each square with a pat of real butter and a light drizzle of maple syrup.
2 cups, uncooked, thick-rolled oats
2 Tablespoons spelt, whole wheat, OR buckwheat flour (freshly ground is preferred)
1 cup buttermilk (or 1 Tbsp. raw apple-cider vinegar + enough raw milk to = 1 cup)
2 large eggs
4 Tablespoons pure maple syrup or raw honey
1/3 cup unsweetened applesauce
1/2 teaspoon vanilla extract (optional)
1/4 teaspoon cinnamon, or more to taste (optional)
1/2 teaspoon sea salt
1 teaspoon baking powder
1/2 to 3/4 cup fresh or frozen blueberries (or some other berries/fruit)
8 to 12 hours before you wish to make the oatmeal squares: Stir together the oats, flour, and buttermilk in a mixing bowl until moistened all the way through. Cover the bowl with a towel or plastic-wrap and let set overnight, or 8 to 12 hours.
The next day, when you are ready to BAKE the oatmeal squares: Preheat the oven to 350F. Grease an 8×8-inch or 9×9-inch square baking pan well with coconut oil, set aside.
In a large bowl, whisk the eggs until well beaten. Whisk in the maple syrup (or honey), applesauce, vanilla, cinnamon, salt, and baking powder until no lumps remain. Add this liquid mixture to the bowl with the soaked oats. Stir until thoroughly mixed. Gently fold in the blueberries.
Pour into prepared pan and bake for 25 to 30 minutes, or until cooked through; top will be golden and a tooth-pick inserted into the center will come out clean.
Cut into 6 to 9 squares. Serve warm. For an extra special touch, top each square with a pat of real butter and a light drizzle of maple syrup.
Serves 6+