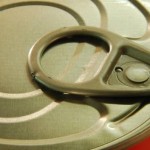 We all know canned food is not as good as fresh! But, there are other concerns to know about eating canned food that go past its taste and nutritional value. How about the can itself, what is it leaching into our foods that we eat daily. The FDA estimates that 17% of the American diet is made up of canned foods. Maybe this is something we need to look at.
Yesterday we talked about what the canning process does to the food being canned, (What is This Common Food? You Get 3 Guesses). From a nutritional view we saw a lot of loss from the canning process.
But there are other issues with canning to look at. The chemical called bisphenol A (BPA), a plastic and resin ingredient used to line metal food and drink cans. The lining is used to keep the foods from reacting with the can causing it to deteriorate and leach into the food or drink.
Research is growing that suggests BPA poses a potential cancer risk and may mimic the female hormone estrogen and disrupt the extremely sensitive chemical signals in the body called the endocrine system. Some studies have shown increased male sexual issues of workers in plants that produce BPA. But the biggest group that maybe at risk from BPA are women and children. According to the Food and Drug Administration, these studies suggest BPA could affect "the brain, behavior and prostate gland in fetuses, infants and young children."
Why are women and children at increased risk, because of the foods they eat.
BPA testing in canned food. We contracted with a national analytical laboratory to test 97 cans of food we purchased in March 2006 in three major, chain supermarkets in Atlanta, Georgia; Oakland, California; and Clinton, Connecticut. The lab tested 30 brands of food altogether, 27 national brands and 3 store brands. Among the foods we tested are 20 of the 40 canned foods most commonly consumed by women of childbearing age (NHANES, 2002), including soda, canned tuna, peaches, pineapples, green beans, corn, and tomato and chicken noodle soups. We also tested canned infant formula. The lab detected BPA in 57% of all cans. – Environmental Working Group
When people are tested 93% test positive for BPA in their urine. The FDA estimates that 17% of the U.S. diet comprises canned food; they last examined BPA exposures from food in 1996 but failed to set a safety standard. This year the FDA has been talking about setting some standards and is still in session over the issue. BPA is an Environmental Protection Agency "chemical of concern," one of five substances the agency has targeted for increased scrutiny and potential new regulation. As of yet no new regulations have been released.
So, what can you do about these BPA concerns. Buy fresh organic vegetables and fruits and if you can't get fresh get frozen. Good news is that can producers are moving to produce linings that are BPA free since they have seen the public's concern.
Home canners need to be careful as many of the metal mason type lids contain BPA.
The best way to extend or preserve food in the home is by the method of Lacto-Fermentation (Lacto-fermented Vegetables & Fruits…Give Them a Try). This is a simple method that not only preserves the food, but super-charges it with increased levels of probiotics and digestion enhancing enzymes. We consume lacto-fermented foods daily in our home. These foods are easily produced using our Lacto-fermentation Air-lock Kit
Cooking God's Way offers classes in the local Dallas/Fort Worth area, if you are interested in locations and times do drop us a note off the contact page.
Sources:
A Survey of Bisphenol A in U.S. Canned Foods
5 toxics that are everywhere: Protect yourself
Bisphenol A-free polymer coating touted as alternative to epoxy can lining