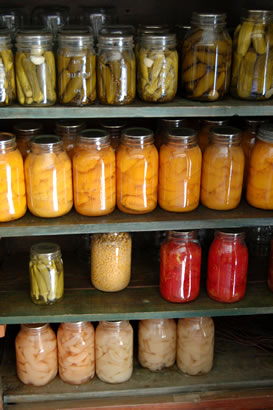 Lacto-fermentation, or culturing, is the natural way to preserve food. It has been used by many different cultures/races for thousands of years. But there other benefits to lacto-fermentation than just preserving. The process of lacto-fermentation produces more enzymes in the food as well as good bacteria and lactic acid. Having those "good" bacteria in your GI tract is very important to ones health. You should eat some form of lacto-fermented condiment or side with every meal to help aid digestion. Proper gut health is so important to your overall health, as most diseases and health problems stem from poor health of your GI tract.
Don't worry though, it is not hard to make lacto-fermented, cultured, foods at home. You can make homemade sauerkraut, "pickled" peppers, pickles, pickled green beans, and so on. It is so easy…..and delicious! You can also make lacto-fermented chutneys with fruit. Coming up with your own variations is also fun to experiment with.

If you want to read more about lacto-fermentation, I suggest you pick up Sandy Fallon's book "Nourishing Traditions: The Cookbook that Challenges Politically Correct Nutrition and the Diet Dictocrats"
(read the chapter on 'Fermented Vegetables & Fruits' for more info and many recipes as well). Also Sandor Katz has a book titled "Wild Fermentation: The Flavor, Nutrition, and Craft of Live-Culture Foods"
. Both of these books are good sources of information on the subject of lacto-fermentation.
Checkout our Lacto-Fermenting Kit and our Lacto-fermenting eCourse.
Please see the videos below for some more insight into fermented foods.
Sally Fallon – Fermented Foods
Fermenting Vegetables with Sandor Katz