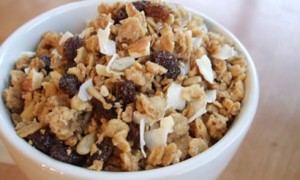 This granola is something you can feel good about eating and letting your kids eat as well. It is great as a breakfast cereal with some raw milk and as a topping for yogurt also. The oats and rye flakes are "soaked overnight", making them more easily digestible and unlocking vital nutrients. You can read more about soaking grains in this article or in this amazing book by Sally Fallon, Nourishing Traditions: The Cookbook that Challenges Politically Correct Nutrition and the Diet Dictocrats.
If you've never read about how store-bought cereals are made, I highly recommend this article from the Weston A. Price Foundation…it has made me rethink things and for this, I no longer buy any store-bought cereals.
7 cups organic thick-rolled oats
1 cup rye flakes
1/2 cup (1 stick) butter, melted
1/2 cup coconut oil, melted
1 can (14 ounces) organic coconut milk (or 1 1/2 cups buttermilk)
2 cups filtered water
4 Tablespoons raw coconut water vinegar or raw apple cider vinegar (like Bragg's)
1 to 1 1/4 cups raw honey or maple syrup (use any combination you wish…I use 1/2 cup maple syrup and about 3/4 cup raw honey)
1 teaspoon sea salt
1 Tablespoon ground cinnamon
1 Tablespoon vanilla extract
Add-Ins: (choose any or all of the following to suit your taste)
Mix oats and rye flakes with the melted butter, coconut oil, coconut milk (or buttermilk), vinegar and water in a large bowl. Cover bowl with plastic wrap or a cloth and let sit for 12 to 24 hours.
After the soaking, preheat oven to 200° F.
Place honey, maple syrup, salt, cinnamon, and vanilla in a glass measuring cup in a small pot of warm water on the stove. Bring water to a gentle simmer, stirring honey mixture until melted and mixed thoroughly.
Combine the honey and oat mixture, mixing to completely incorporate. Spread the mixture out over two parchment paper-lined baking sheets. Bake for 4-8 hours, or until granola is dry and mostly crisp; after a couple of hours in the oven you may want to slightly break up the granola and also fluff it up (stir it around) to allow for faster cooking/drying time.
When granola is mostly crisp, turn off oven and leave baking sheets inside with door closed until completely cooled. The granola will get slightly crispier as it cools.
Mix in any add-ins you like, such as: raisins, dried coconut, sunflower seeds, other dried fruit and/or nuts. Store in an airtight container. Serve with chilled raw milk.
Makes 10-cups of granola (without add-ins).