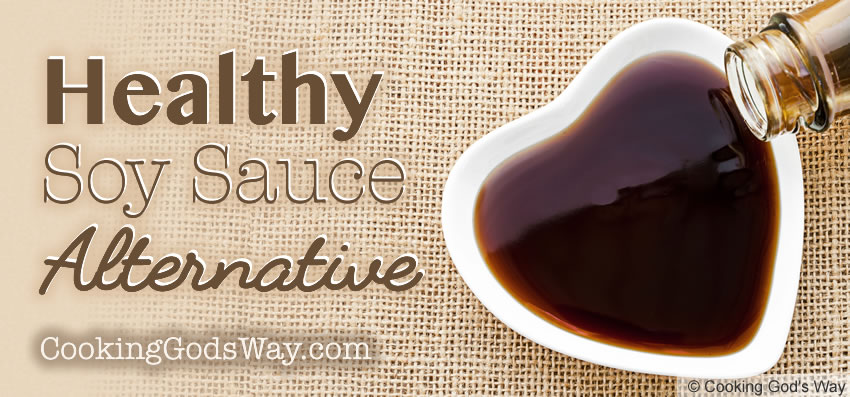 I've always loved that umami flavor that soy sauce brings to any food or dish. Though now, after learning about how unhealthy soy can be, our family really tries to stay away from it. So if you're like me and have missed the taste that soy sauce brings, then you're in for a treat. This healthy soy sauce alternative is easy to make and uses common ingredients you may already have in your kitchen. (If you're still confused about soy, see the article entitled Soy: The Many Dangers of Soy which should help clear things up.)

This natural sauce is easy to make and comes pretty close to tasting like the real thing…without all of the dangers. You can use this homemade sauce as a substitute for Soy Sauce or Worcestershire Sauce.
Want a quick stir-fry sauce that's healthy and tastes great? Just thicken the soy sauce substitute with a little arrowroot powder and voila! You have a fantastic sauce for any Asian inspired meal!


Soy Sauce Substitute
Whether you've run out of soy sauce or avoid it for health reasons, this homemade sauce is the perfect soy sauce substitute. It's quick and easy to make and gives you that familiar taste you're looking for.
Ingredients
1½ cups beef broth or chicken broth (preferably homemade*)
3 teaspoons balsamic vinegar (OR apple cider / red wine vinegar)
2 teaspoons unsulphured molasses
¼ teaspoon ground ginger
1 pinch white pepper
1 pinch garlic powder
1 pinch onion powder
unrefined sea salt, to taste (can be adjusted to suit your tastes)
Instructions
In a saucepan over medium heat, stir together all of the ingredients, except salt. Bring to a boil. Continue to boil gently until liquid is reduced to about 1 cup, for about 15 minutes.
Taste sauce and season as needed with sea salt, until desired saltiness is reached.
Store the sauce tightly covered, in the refrigerator for up to one week. Shake before using.
Notes
*Beef broth will give the soy sauce substitute a more authentic flavor. Homemade beef broth is the best due to the high nutrition and mineral content. Luckily it's easy to
make your own beef broth
.
TIP:
Use as a substitute for Soy Sauce or Worcestershire Sauce. This sauce also makes a great "stir-fry" sauce when thickened with a little arrowroot or corn starch.