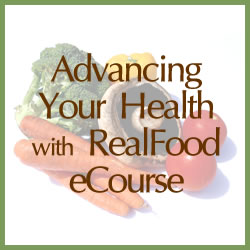 Yes, the New Year is upon us. It's a time to reflect on this past year and what we would like to change for the better, particularly in our health. Nutrition, the way we eat, certainly has an enormous impact on our health and wellness.
Have you been eating the way you want to? The way you should?
Maybe you have good intentions, but need some extra help getting started. And some encouragement and support along the way couldn't hurt either.
"Many of those who set out to reach a health goal never do. All because they are lacking one crucial thing…Support!"
Well, Cooking God's Way is here to help.
Sign-up for our "Advancing Your Health with RealFood" eCourse.
In this  10 lesson course, we will cover the basics of a Healthy Diet and beyond.
When making a change in your life, we understand the need to take things one step at a time. That is why the course will be broken down into individual topics that you will study daily – implementing them into your life as you go.
The lessons will be in the form of video presentations and written text and are designed to fit into your schedule easily (30 minutes or less). Your membership to this course will be valid for 1 year, so you can revisit the lessons anytime during this period as you need.
Sign-Up for this

FREE

eClass Today!
In this FREE 10 Lesson Course You will learn:
Healthy options for –

Sugars (sweeteners)
Grains
Meats
Dairy
Fats / Oils

To identify "Healthy" foods when shopping to provide better meals for your family.
How to prepare food correctly to get the maximum nutrition.
Foods that cause inflammation in the body and why we should limit their intake.
How you can loose weight naturally by eating

Real Food

and keep it off.
To read food labels properly – and know what ingredients to avoid, etc.
The foundational "RealFood" ingredients needed in your diet for optimum health.
You Will Also Receive Access to:
Informational, downloadable/printable material for each lesson
Exclusive comments area to discuss each weeks lesson and also encourage one another through our goals.
What are you waiting for…Start

Your

Healthy Lifestyle TODAY!
IT'S FREE!
How RealFood Savvy are You?
Should you take the Free eCourse "Advancing Your Health with RealFood"?