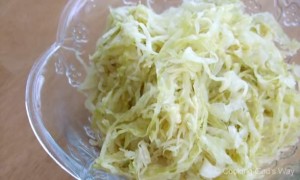 I've finally found the secret to great sauerkraut…..very finely shred the cabbage! I was doing it by hand before because I don't have a thin enough blade for my food processor. But I guess cutting it into shreds by hand just wasn't getting it thin enough. And I never thought to use my mandolin….duh 😛 So that's it….now I use my mandolin to get super-fine threads of cabbage, about 2mm thick, perfect for the "best ever" lacto-fermented sauerkraut.
2 1/2 pounds of very thinly shredded green cabbage (from a 3 1/2 to 4 pound head)
(can also use red cabbage if you prefer, makes a milder lovely colored "pink" kraut)
1 1/2 Tablespoons Real Salt OR fine Himalayan Salt
Extra Brine: 1 1/8 teaspoons salt + 1 cup filtered water
You Will Also Need:
1/2-gallon (2-quart) sized wide-mouth jar (preferably with air-lock lid)
wooden dowel (food-safe) OR back of a wooden spoon
Place a few small handfuls of the shredded cabbage into the bottom of 1/2-gallon jar. Sprinkle this cabbage with a light layer of your sea salt. Gently tamp, pound, the cabbage down in the jar with a flat rolling pin or a wooden spoon. Repeat this until all the cabbage and salt is used up (this should happen at about the same time, so try to use up your salt evenly).
Loosely cap the jar, set it aside for 30 minutes to allow the cabbage to self-brine.
Press down on the cabbage, checking how much brine the cabbage made. If necessary, make up the extra brine and pour just enough over the top of the cabbage to completely cover. Keep in mind that the cabbage will soak up some of the brine during the fermenting process, and we want the cabbage to stay moist throughout.
Place lid (preferably air-lock lid) on the jar tightly. If using air-lock fill with water according to instructions. Allow to ferment, at room temperature, for 7 days.
Remove air-lock lid, if using, and replace with storage lid — transfer to cold storage (should last up to 6 months if properly stored).
Makes 1/2-Gallon.
*Sugar-Free / Grain-Free